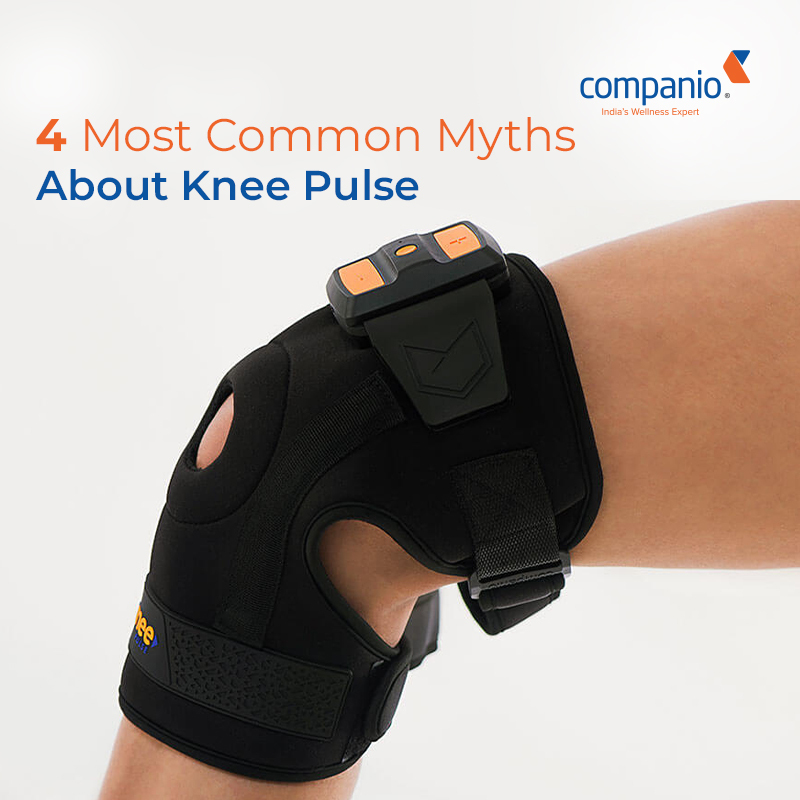 4 Most Common Myths About Knee Pulse
December 26, 2022 by Companio
Knee pulse is misunderstood by many people. In the modern world, even teens and adults are also experiencing pain in their knees. We are sure that you might also need a solution for this problem, and yes,
knee Pain is not a myth anymore; it's real, and many people suffer from it. The way our knee pulse works will reduce your pain. You must accept that you need a knee pulse machine to reduce your pain. There are some myths about the knee pulse machine. In this article, we will disclose all the myths about knee pulse. Let's explore the facts and myths about using knee pulses.
4 Myths about knee pulse:
Machines are not good
Suppose you don't know how to operate them, yes! The machines are not good, but we are damn sure if you can handle the device, it will benefit you most and reduce your pain.
Know how to handle the machines by reading the user manual before getting it operated.
Machines can give you another pain.
Not sure; who stated this! But we will definitely say it's a myth about all the machines used to reduce pain in your body. Some of the machines may cause you pain; our knee pulse differs from those available on the market. We are tested, and the parts used in our devices are of higher quality. So it won't give you any sort of pain apart from reducing your pain.
They are costly
The device may be costly due to its ability to reduce pain; trust your doctor, who can suggest machines to reduce it. They are not costly; they are worth every penny. Because the money you spend on any major issues is at an average of 3-4 lakhs in an emergency, they are worth it. Just try them out.
Machine frequently repaired
Some machines may be repaired frequently if you are using them in the wrong manner or the other reason maybe it's of low quality. Our knee pulses are of high quality, and we swear that our products are high quality; if you follow the user manual, they will be effective lifelong.
4 Facts about knee pulse:
Knee pain's intensity
There are different stages of knee pain, based on your pain; the stages are classified. You can change the intensity of your knee pulse based on the stage of your knee pain. But don't rely completely on any device to reduce the pain. Your knee intensity should convey the device intensity for reducing your pain. You need the device for only reducing the pain, not as a lifestyle product.
Follow the manual's instructions.
For any device to deliver complete pain relief, you should be able to operate it on its way, not in your way. You shouldn't operate without reading the instructions. Sometimes it may hurt the operation of the machine, which causes it to deliver a poor response to your pain. Know the device and then operate it according to the guidelines.
Follow routine
Following a routine to operate the machine may help it to deliver a proper response rather than operating it without a routine. How the machine operates may be significant in extracting the complete benefit of the machine.
In reducing pain, a proper routine aids in a better understanding of the machine. A better understanding helps us to handle all the electronics similarly.
Don't rely on machines.
Your lifestyle must be changed if you rely only on machines to reduce your pain. It is a part of your lifestyle; it shouldn't be your whole life. Make a lifestyle change such that you practice yoga and do some exercise, and it would work for you to reduce the pain. But it's totally up to you to take anything to reduce your pain. Just don't rely on machines.
Conclusion:
These are the myths and facts about a device that can be used for pain; most people have all these doubts before getting the device. Don't believe people's thoughts on this matter. Just give them a try. Follow for more blogs and good pieces of information.