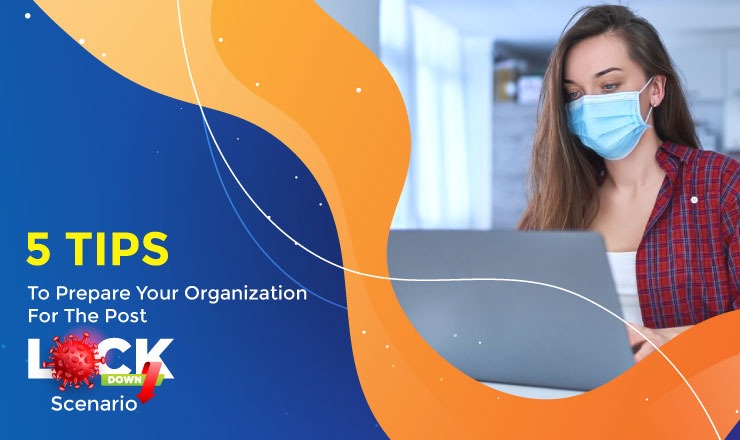 5 Tips To Prepare Your Organization For The Post Lock-down Scenario
June 23, 2020 by Companio
The world is fighting a novel coronavirus, and it has come to a standstill. While we were enjoying working from the comfort of our homes, we forgot that one day we have to go back working from our workplaces. Now, when we think about getting back to offices, a plethora of questions pops up in our head. For some, it is how we will cope with social distancing, and for few; it is the risk we will be putting ourselves at.
Well, this blog is an informational insight for small and big organizations alike on how they can prepare their workplaces for the post-lockdown scenario.
Sanitization is the key- It's been months, and we can't thank enough how these bottles have come to our rescue in the testing times. No matter whether you step out or step in, or sitting in the meetings or cafeterias, it is important to use the sanitizers. Being an employer, it is the most important responsibility that you should consider. This is because, your carelessness of not keeping the hand sanitizers at your workplace, and employees not bringing their own can put you and your teammates at a huge risk. Moreover, appoint someone that they can refill the sanitizers from time to time.
Wear a mask- This is very important and this is because in today's time the coronavirus afflicted person does or does not show symptoms. And, as scary as it sounds, your health and well-being is your responsibility whenever you step out. Therefore, encourage your employees to practice proper etiquette if feeling like coughing or sneezing.
Classify and categorize your employees based on respiratory ailments they suffer from- Everyone is at risk to this current pandemic, but do you know what riskier? The people who are afflicted with the respiratory ailments posses more threats, and thus, whenever you call your employees back, do a check. Categorize them, and see that they follow the much required social distancing norms. If not, then legalize a punishment for everyone.
Social distancing- The biggest risk of going to the office is to share a common system, and sitting in close vicinity to each other. Well, we don't know what goes on with whom, but we can do our bit by considering some social distancing norms and following one arm distance rule in the presence of other people.
Keep a routine check- Well, a routine health check, temperature check, and asking them to smell the fragrances can help you save them and most importantly you. Even if you come in contact with one afflicted person, make sure that you allow them to work from their homes so that they can fulfill their quarantine period.
It has been said that we have to live with this coronavirus. We can save ourselves only if we follow these simple rules. But, in case, you encounter other socially challenging situations, then it is advised to use your wits. For increasing immunity, you can conduct a 15-minute mandatory walk or some sitting asana and keep your diet healthy.
STAY HEALTHY, STAY SAFE.